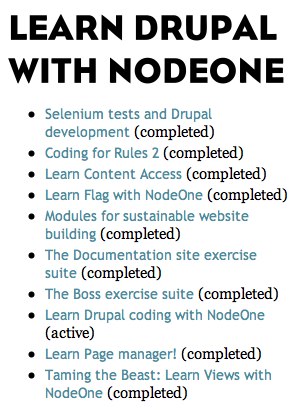 I thought I would take a minute today, take a little detour, and share a resource I've discovered recently that is an absolute MUST for anyone who wants to learn and master Drupal.  NodeOne is a Scandinavian Drupal shop and they have the most amazing collection of free video and written Drupal tutorials prepared by Johan Falk.  Johan is a skilled Drupal-er and an excellent teacher who explains concepts clearly and systematically, and even though I'm quite comfortable working with Drupal I still find myself learning from him.  He's also written a Drupal 7 book – Drupal 7: the Essentials
.
So check out the NodeOne Drupal learning library.  For the best results, filter by the version of Drupal that you're interested in and see what pops up.  The screencasts are arranged in sets by topic.  Here's a partial list:
Learn Drupal 7 with NodeOne
Taming the Beast – Learn Views with NodeOne
Learn Page Manager
Learn Flag with NodeOne
Learn Content Access
Learn Rules with NodeOne
and more…
Thanks Johan for taking the time to share your knowledge! You should also follow Johan on twitter.
Enjoy
Related Posts