MODx Revolution for Complete Beginners Part 1 – Introduction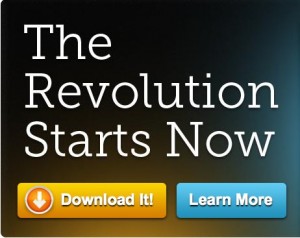 This is the first in a planned series of tutorials covering MODx Revolution 2 for complete beginners from the ground up.  MODx Revolution is the new branch of the MODx CMS that's built on a whole different code base than MODx Evolution.  According to MODx founder Ryan Thrash: "MODx Revolution is a completely new MODx. It retains the soul of what makes MODx a great platform for building custom websites and rich applications, while enabling you to do more and to do them better.  MODx Revolution 2.0 is more powerful, can handle high-volume sites, and offers the ability to handle multiple sites and subdomains from one install." (The Revolution Starts Now)
About this Series
This series will closely mimic the same hands-on style as the other beginner tutorial sets on this blog for MODx Evolution, and Drupal 6, which can be found listed on the Beginner Tutorials page.  As with all my tutorials, these will serve as a journal and reference of my own learning experience, as well as a way for me to share my knowledge and experience as I go. We will start from the very beginning, installing MODx Revolution, and working from there on, building a sample site as we go, much as we've done with other tutorials on the Coding Pad.  We will explore the different features, addons, and such, and look at some ways to get things done in building a site with MODx Revolution.
Bear in mind as we go along that the definitive and best resource for learning everything about MODx Revolution remains the remarkable and ever expanding official documentation, and I strongly recommend that you bookmark and become very familiar with the manual:  http://rtfm.modx.com/display/revolution20/Home
Intended Audience

The target audience for this series is primarily people who are completely new to MODx Revolution.  You don't even need to know MODx Evolution to follow this series.
If you do know MODx Evolution, you may find some of the initial parts of this series a little tiresome as you will already know some of the MODx basics, but hopefully you'll learn something as you go. I will be mentioning as I go things that differ between Evolution and Revolution, to help make things clearer.
If you are already familiar with MODx Revolution then this series will most likely not appeal to you as most of the stuff covered may already be known to you, but feel free to hang around and share feedback, and correct any errors I may make 🙂
What about MODx Evolution?
Even though I am now working more and more with Revolution, I am still building and maintaining sites with MODx Evolution, and I will continue to blog and write tutorials for Evolution even as we dig into Revolution.
IMPORTANT NOTE:
One thing that is important to realize is that with MODx CMS there are often more than one or two ways to accomplish something. MODx doesn't often constrain or box you to doing things a particular way.  Therefore, the way I do things is just that – the way I do things. It's not the only way or the better way, it's just one way. Therefore, take these tutorials as a guide, a starting point, and be sure to explore the official documentation ( http://rtfm.modx.com/display/revolution20/Home), other blogs, and the MODx forum to get more ideas and learn more.  It is my hope that you will take what I put here and build on it, developing your own paradigms as you go.  I will be posting relevant resources at the end of each post.
What you will need:
Some good knowledge of HTML/CSS will come in handy
Some knowledge of PHP, while not absolutely essential, will come in very handy in truly exploring and expanding on what you can do with MODx. Where needed, I will cover the basics of whatever PHP code we may use, and/or point you to other resources, but I strongly recommend that you pick up some knowledge of PHP as it will serve you well.
Curiosity, patience, and your favorite beverage 🙂
So that's it for now, remember to subscribe to the Coding Pad and work along as we embrace the Revolution. See you soon!
Image borrowed from http://modx.com, no copyright infringement intended 🙂