Building a Website with Drupal 6 – Part 3: Configuring your Site
Welcome to part 3 of our tutorial on building a website with Drupal 6. In part 1 we did a brief introduction, and in part 2 we installed Drupal.  As we go through this tutorials I am building a Drupal resource site called Learn Drupal.  So our website so far looks like this:
(You can click on the images for larger views)
In this installment, we're going to further configure our website and learn more about the administrative back end of a Drupal website.  So log in to the website with your admin username and password.  On the left side is a navigation bar, and we're going to click on "Administer" and look at the admin back end.
On the administer page, there's a bunch of things you can do and change, and this is where you control and change everything about your site.  It can be overwhelming as a person new to Drupal to look at all this and wonder "what next"?
Every one has a different way of approaching the process of building a Drupal website. And for every different Drupal website I built I have a somewhat different workflow. As you learn Drupal and become accustomed to it, you'll develop your own workflow or approach when building your websites.
I could go ahead and explain each and every one of the things you see on that Admin page, but I won't. As I mentioned in my first post, I will cover the different parts of Drupal as I use them, so that you can see them in action as well as learn what they are.
So let's start with Site Configuration.  On the left column on the admin page, if you scroll down a little, you'll see the Site Configuration section of the page:
The little blurb under each of the options tells you what each section does.  We will revisit this section several times as we get our website built, but for now let's see what we can add to the Site Information section. So click on Site Information link.  Here you can see the site name and email address that we put in during the installation process. You can change these now or at any time, and you can put in additional information such as a slogan and site footer, which I've added as you can see below.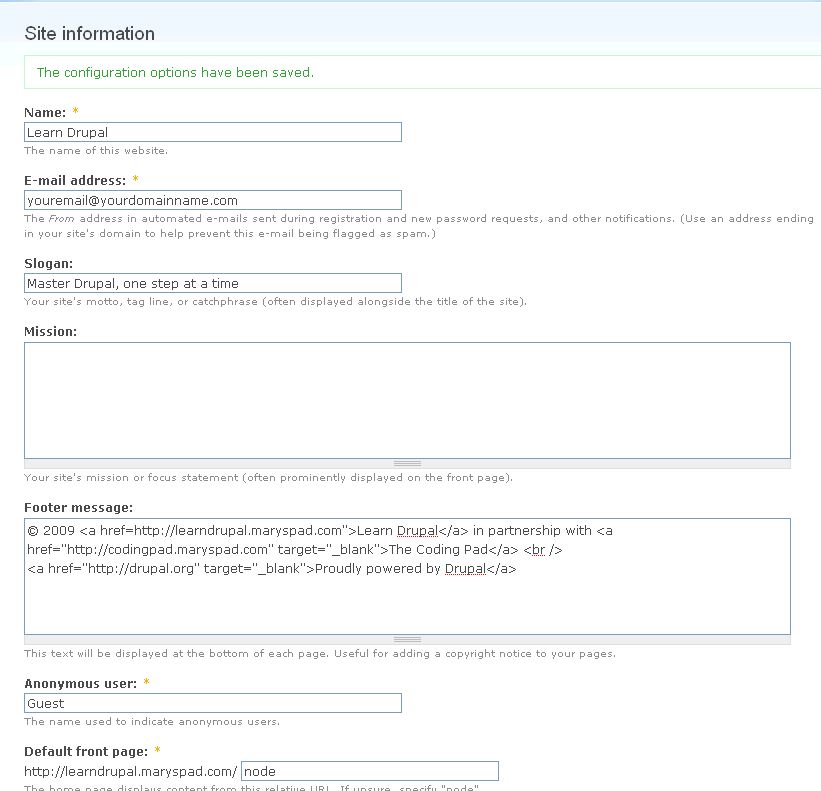 I've also changed it so that unregistered users to the site are addressed as "Guest" and not as "Anonymous".  Finally is the "Default Front Page" option. What you enter here determines what page on your website Drupal will use as the front page of your website. For now, we will leave it as it is, but we may want to change it in the future.
If you look at the footer section, you'll notice I've used some html tags to insert links to the titles of the website and this blog, and finally I've added an attribution to Drupal that link to the Drupal website, to give credit where credit is due! 🙂
You will notice that I left the site mission box blank.  If you enter text in this area, it appears in a prominent place on the front page.  I don't need that for my website but it can be useful in other cases.  A good example is this Adoption website built on Drupal where you can see the mission statement clearly at the top (click image for larger view).
Like I said, a mission statement is not something I want for this website at the moment so I'll leave it blank for now.
If you now save the settings and go back to the home page (either by clicking "Home" on the breadcrumb navigation or click on the "Learn Drupal" at the top of the page, you will see the changes we made to the footer section.

You'll notice that you don't see the site slogan anywhere even though we entered one, and we're going to take care of that when we look at the themes section.
Great! There are a lot of other things we could do on the Site Configuration section but we don't need to at this time. But there are three things on that site configuration section that I should talk about.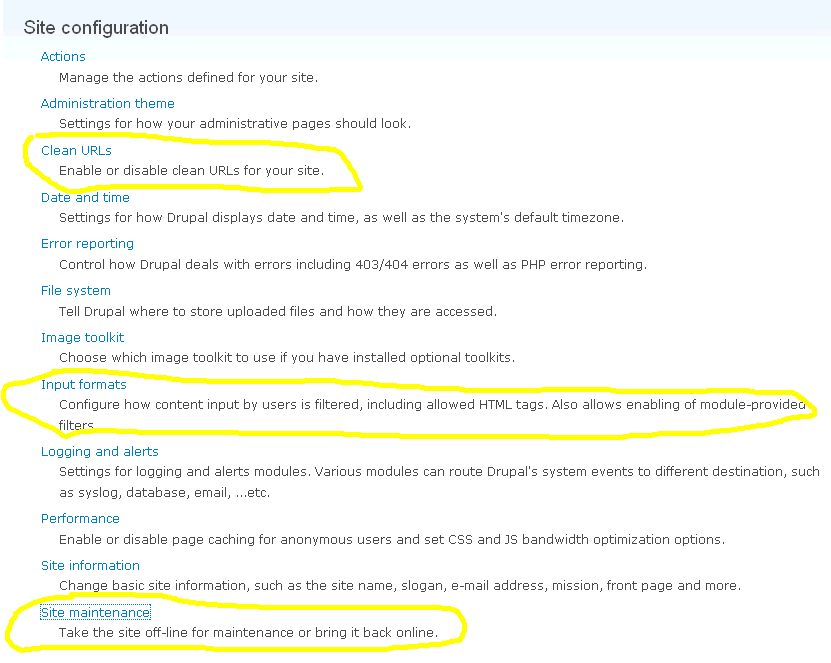 Clean URLS
During the installation process in the last post, we talked about clean urls and why they're cool to have. If for any reason you didn't enable them and want to do so now or at a later date, or for some reason you need to disable them, this is where you go to do that.
Input Formats
Input formats basically allow you to set what format users of your website can use to enter their content. Do you want them to be able to enter html tags, e.g.  able to have links in their content? Do you want them to be able to use more advanced html tags and enter javascript code (gasp!) or just be restricted to the good ol' harmless tags? Well, this is where we set  those decisions.
The settings by default allow all roles to use the Filtered HTML and no roles can use the Full HTML. So you may wonder what roles are? Well, when users are added to your site, you assign roles to them depending on what you want them to be able to do on your website. For example, site administrators will be able to do a lot more than ordinary members. All this depends on what your website is all about. For a social networking site ofcourse there would be multiple roles and complex relationships, but for a small business website you may only three or four roles.  We will delve into roles later and come back to this page to change and configure settings. For now, I just wanted to introduce you to the concept of input formats.
Site Maintenance – Taking Your Drupal Site Offline

If you're developing your website live, you may not want anyone who visits it to see it before it's done, so you may want to put it offline till it's ready for public viewing.  You may also need to take your website offline when doing upgrades or other major changes.  In this case, you would click on the Site Maintenance link and choose to put your site offline.  There's a default message but you can change it to one that suits you.
This is what the site would look like if I took it offline now: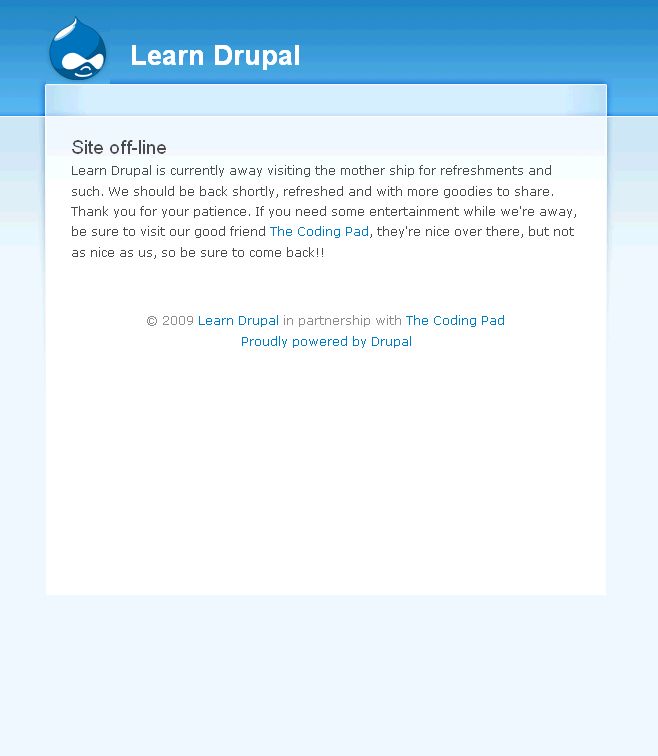 Remember that you have to be logged off to see this screen. If you're logged in as admin youwould see the normal screen.
Panic Moment – Locked out!! How Do you get back into your Drupal Website?
OK, so you logged off and you can see the site if offline… dandy! But how do you get back in?? Easy, just append "/user" to the end of your url and you'll get your login screen, and you can get back in.
Being able to put your site offline for maintenance duties and upgrades is a great thing, just remember to put it back online when you're done.
So during this section we've done some more site configuration and learned how to put our Drupal website online and offline, and a bit about input formats.
In the next segment, we're going to start building our website, talk a bit about blocks and modules, and then add some content, and maybe do some other stuff! So stay tuned!
Homework: (I promised there'd be some 🙂 )
Spend some time in the site configuration area and see what other changes you want to make to your website configuration.  You may even want to add a mission statement!