HTML and CSS Web Standards Solutions – Book Review
I've been spending some time in the recent past revisiting my knowledge of (X)HTML/CSS, and one of the big things I've discovered is that I have more I need to unlearn than to learn.  I learned everything I know about building websites on the internet, by experimenting, searching w3c schools for syntax rules and tags, and learning by looking at other people's source code. This is the first time I've actually bought and gone through a book on this stuff, and I am so glad I did – wish I has done so earlier!  If you're just starting out, or like me feel like you need to learn the right way, or just want a nice (X)HTML/CSS book for your collection, I have just the book for you, it's HTML and CSS Web Standards Solutions – A Web Standardistas' Approach by Christopher Murphy and Niklas Person.  This post is a review of the book.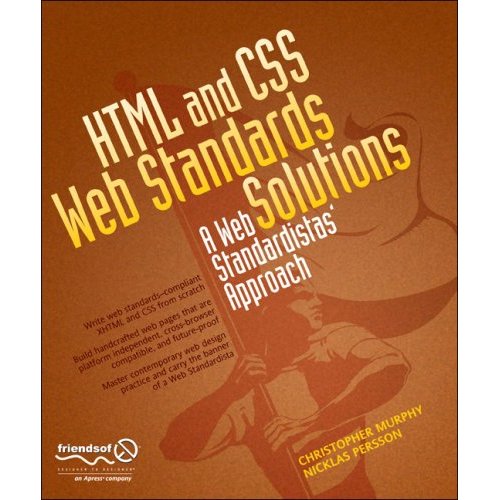 HTML and CSS Web Standards Solutions – A Web Standardistas' Approach is, in my opinion, one of the best books for learning standards-compliant (X)HTML and CSS from scratch.  The authors take a no nonsense approach from the get go and go through the material thoroughly and without cutting corners.  Best of all, this book is hands on as you build a website (http://famousprimates.com) as you work through the chapters of the book.  They teach you the correct usage of tags, including the H tags, and there's a great emphasis on building accessible websites throughout the book.
One of the things that I found different and refreshing in the authors approach is that you don't even see or touch CSS until Chapter 8 in the second half of the book! This means you spend the first 6 chapter learning nothing but standards compliant semantic (X)HTML before you start styling.  I was very impatient to get to the CSS but was very very glad I waited and went step by step and didn't cheat 🙂
Here are the chapters:
Part One: A Solid XHTML Foundation
———————————-
Chapter 1: Are You a Web Standardista?
Chapter 2: Building Basic Web Pages
Chapter 3: Structured Markup
Chapter 4: Markup That Adds Meaning
Chapter 5: Including Images
Chapter 6: Creating Links with Anchors
Chapter 7: Getting Your Site Online
Part Two: Adding Style With CSS
———————————-
Chapter 8: CSS 101
Chapter 9: Styling Text
Chapter 10: A One-Column CSS Layout
Chapter 11: A Two-Column CSS Layout
Chapter 12: List-O-Matic
Chapter 13: Harnessing the Power of External Style Sheets
Chapter 14: Where to from Here?
This book is definitely not for those looking for advanced HTML or CSS techniques, but will serve its place in anybody's bookshelf as a standards compliant reference book.  I highly recommend this book to anyone just starting out with coding web pages, experienced but needing a refresher on standards compliant semantic coding, or feeling like you want to start all over again.
HTML and CSS Web Standards Solutions – A Web Standardistas' Approach is one of those books that you need to have.