Building a Website with Drupal 6 – Part 10: Reports – Keeping Track
Welcome to part 10 of our tutorial on building a website with Drupal 6.  Previously we covered:
Part 1: Introduction
Part 2: Installing Drupal 6
Part 3: Configuring your Site
Part 4: Playing with Blocks
Part 5: Playing with Modules
Part 6: Playing with Themes
Part 7: Installing Modules and Themes
Part 8: Pathauto, Content, and Content Types
Part 9: Users, Roles, and Permissions
As we go through this tutorials I am building a Drupal resource site called Learn Drupal.
So far our website looks something like this: (you can click on the images for a larger view)
Our website is coming along great, we have some content, we have a contact form, we have a relatively unique look, things are looking good.  But how do we know if we're getting visitors?  You'll notice in my screenshot that I have a counter on each piece of content that tells me how many times the content has been viewed.  This is made possible by the settings we chose when we enabled the Statistics module, and is visible to me as the administrator, and you should be able to see it on your website too. But what other specific data does the Statistics module log?  This is part of what we're going to briefly explore today.
I should start by saying that there won't be much hands on stuff today, just looking around.  The first place we're going to look is the Reports section of our administration backend.  So go to Administer -> Reports.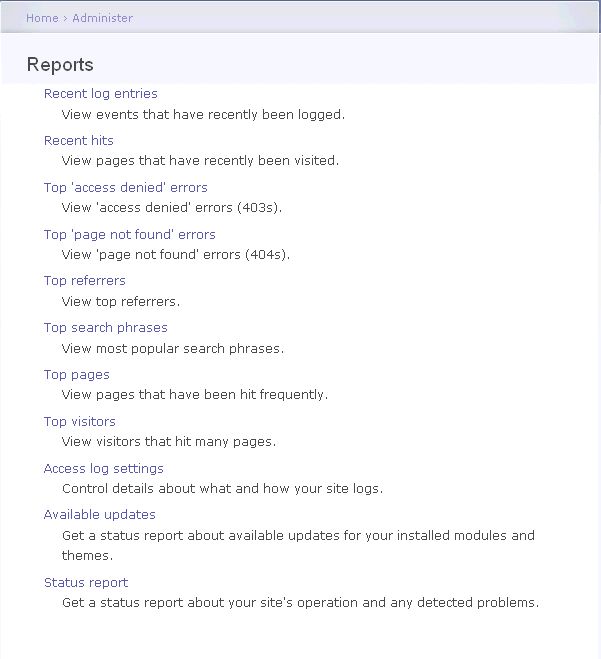 This section is tracking central, where you can see what's going on on your website.  I recommend looking at your reports regularly as the can alert you to problems that users may be running into when visiting your website, who's visiting your website, where they're coming from, etc.
Let's look through the reports and explore what's been happening at Learn Drupal, now that it's been online for a while.  If you're developing locally, you will only see your activity since you're the only one who's accessing your account.  But once your site is live and online, there will be a lot more interesting stuff to see.
Alright, let's look at Recent Log Entries.  This area shows you simply every event that has occured on your website for the last x days, x being the number we specified when we set up the access log settings (for Learn Drupal it's 8 weeks)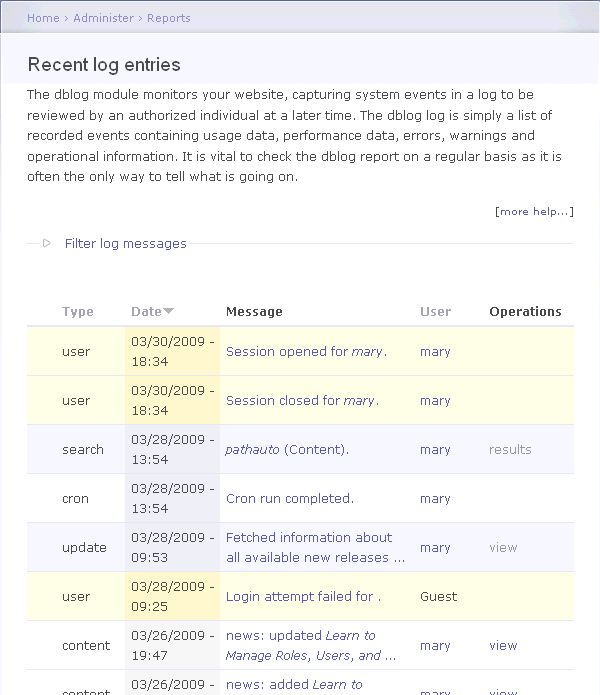 As you can see, the report shows you what "type" of event occured (whether it was related to a user, to content, a cron run, or an update), the "date and time" of the occurence, the "message" which is basically details about the event, the "user" who triggered the event, and allows you to view the results of the "operation" where applicable.  For example, if I click on "view" for the update event on the screenshot above, I get the results of the update:
So then I can easily see the results of the last update check and the status of my install and modules and if I need to install any updates.
You can see that scrolling through the list of recent log events can become overwhelming, so Drupal gives you the ability to filter the entries.  You do this by clicking "Filter Log Messages" above the list of events and then selecting what events you want to see.
As you can see you can filter by Type or by Severity.
The next report is the Recent Hits.  This report basically shows you what the recent hits on your website have been, by whom, and when they occured.  If you click on "Details" you can see the details of each hit, including any referrer where applicable.
The Top "access denied" errors gives us a count of how many times the website has thrown an access denied (403) error and what page the visitor was attempting to access. This can help us figure out if we have permission errors, or if someone is trying to get access to unauthorized parts of our website, such as the admin interface.
The Top "page not found" errors gives us a count of how many times the website has thrown a page not found (404) error and what page the visitor was looking for.  This can help us figure out if we have broken links, for example.
The Top Referrers" report tells you where your website visitors are coming from, if they're finding you through other websites, through google, etc.  Looking at my top referrers report, you can see that the bulk of my visitors so far are coming from this blog 🙂
You can sort this list so that you see the referrer that has sent you the most hits (this is the default sort), by referring url, or by Last Visit.
The Top search phrases shows you what site visitors search for most on your website. This can be helpful in determining what topics are most popular and that maybe you need to write more content on.
The Top pages tells you what pages on your website get the most hits so you can determine your most popular content.  The default sort again in the number of hits.  This report will also tell you the time it takes your website to generate the page, giving you an overall idea of how long your visitors are waiting before they see the content, and therefore, how efficiently your website is running.
The Top Visitors report shows you the users who visit your site the most frequently.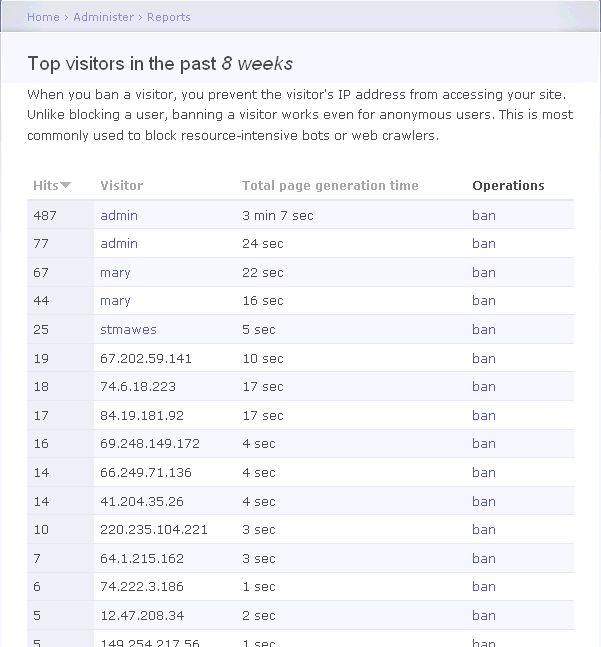 If they're not registered users, then you'll simply see an IP number (hostname).  You also have the option on this page to ban certain visitors.  You may for example need to ban a particular IP (hostname) because you know that it's a malicious bot.
The last two reports "Access Log Settings", "Available Updates", and "Status report" are ones that we've looked at before, so we won't revisit them, but you can look at them again.
The reports section may seem a little boring now but it's crucial that you keep an eye on your reports and logs so that you can catch errors and correct them.
In the next post, we're going to get back to doing hands on stuff as we add more functionality to our website.  So stay tuned!