Gauging User Interest – MODx vs. Drupal
This post was inspired by a conversation on Twitter, where @ShaneSponagle, my buddy and MODx guru extraordinaire 🙂 asked me what my blog stats looked like with respect to interest in MODx vs. Drupal, since I blog about both platforms.  What I'm going to present here is a simple, and yet not so simple answer to that question.
Some disclaimers before I start:
I'm not an expert on either platform, I just share what I know and I'm learning
I'm not an expert at statistics or interpreting them
I'm not making any statements about which CMS is "better" or "more popular" than the other
In the grand scheme of things, I'm a small fish and this blog is just a small portion of the web, and so I don't pretend to represent any global trends
That said, I think there's some moderately good basis for comparison for three simple reasons:
I am working concurrently on two tutorial sets, one for Drupal and one for MODx
They are both aimed at complete newbies, so the audience is comparable
A lot of my top hits and searched are on posts in either tutorial series, with the exception of two other posts (one on Fedora and the other on splitting CSV files).
Things to keep in mind:
Drupal has been around for a long time and has a lot more documentation out there than MODx does, so a lot of people looking for newbie Drupal tutorials have a lot of other places to go
I am currently running a MODx blog contest, but I can honestly the relative stats now are comparable to before I started the contest.
Some more background before I show you the stats:
I've been running the WP-Stats plugin on my blog for approximately the last 30 days (since March 21st), so I am mostly going to restrict my results to that time period.
Drupal related posts: at least 25 (at least 18 are tutorials) | MODX related posts: total of 10 (6 are tutorials)
Alright, let's get on with the stats:  You can click on the images to see a larger view.
For the last 30 days, posts with the most hits: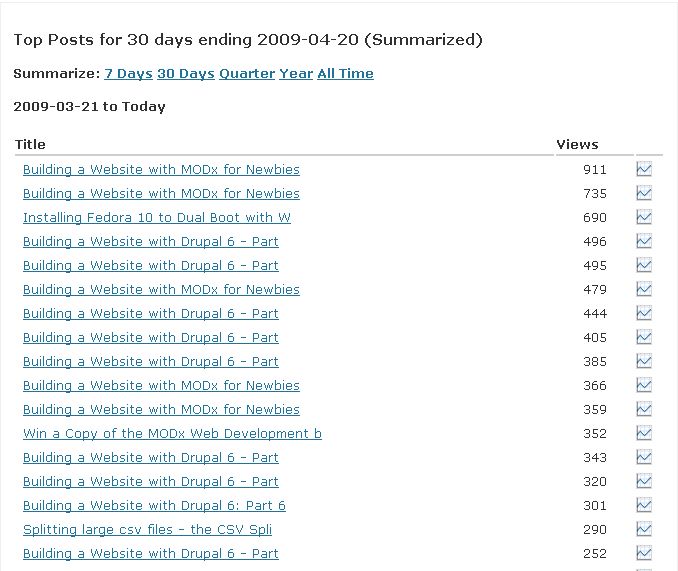 Top search terms that brought visitors to my blog: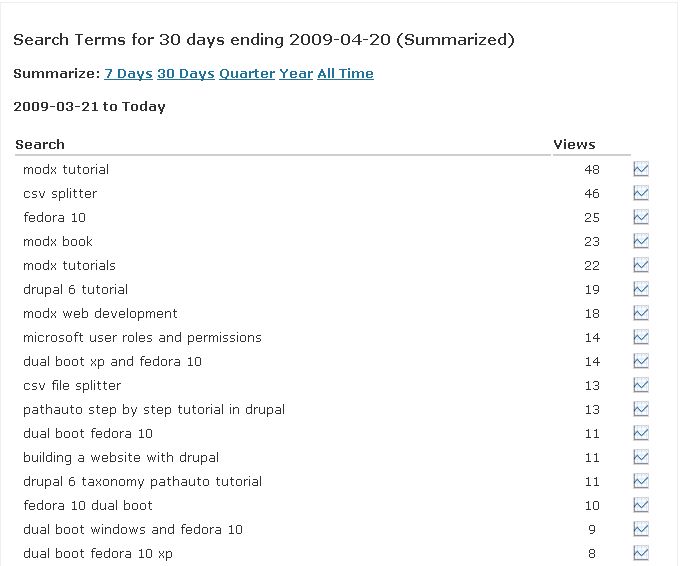 Stats from Google Analytics for the same time period: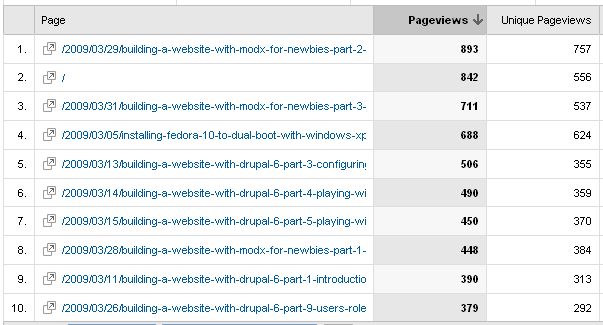 Posts with the most user interaction in my blog:

The trend is definitely pretty clear.  MODx related posts on this blog have had the most hits and user interaction 🙂
Does this mean that MODx is better or even necessarily more popular then Drupal? No, I wouldn't venture to say so.  As I said before I started, this stats are not intended to be interpreted that way.  Drupal has a lot more documentation out there for anyone interested, and as more people blog and write about MODx, these stats may very well look very different.  Or not. Who knows? 🙂
For anyone who may be interested, you can't make it out from the shots, but the top two leading MODx posts on the stats are:
Installing MODx
Working with MODx Templates
Constructive comments and thoughts are welcome.   🙂